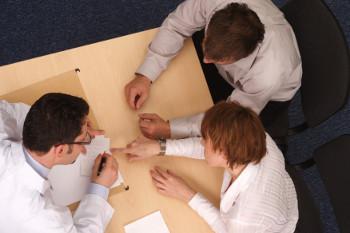 Medical care and treatment is a necessity for quality living. With the Affordable Care Act, our country has attempted to expand access to healthcare at the expense of quality. A doctor bears the responsibility of understanding the medical needs of the patient and delivering quality health care. However, in certain cases the patient may not be satisfied with the opinion of a physician. In such cases, the patient has the sole right to seek a second medical opinion to ensure that he gets optimum and desired health care up to his satisfaction. Here are some of the reasons where a second medical opinion is genuinely recommended:
1- In case the treatment and medicines given have not provided desired relief1 as suggested by the patient's symptoms and or investigation reports, a second opinion may be required to confirm the diagnosis. This will ensure that the patient has confidence in the medical treatment he is undergoing and the anxiety about his illness is reduced.
2- In cases where the doctor in first consultation has advised a prolonged course of treatment, a second opinion can be sought for to check if a simpler treatment of a shorter duration can be taken with life style modifications, if necessary.
3- In cases where surgery has been recommended as the first line of treatment and the patient is not keen on the operation. In such cases, a second opinion can be sought to reconfirm the need for surgery and seek out a non surgical line of treatment can be implemented.
For e.g.- A male patient aged 85yrs, diagnosed with osteoarthritis is advised to receive knee replacement surgery. In such cases, it is rational that the patient should check to see if drugs alone can help him.
4- In cases diagnosed with life threatening conditions, before starting the treatment, a second opinion can be sought for and investigations sent to a good laboratory. This is of vital importance in paediatric cancers, as parents are anxious about the child's health in regards to drugs or radiation therapy2.
5- In cases where the patient suspects that the doctor is not confident about the diagnosis, a second opinion can be sought for.
6- In cases where the treatment offered is expensive, a second opinion can be sought to check if drugs with a lower price but good outcomes can be administered with same benefits. This is a prime factor in developing countries like India, Bangladesh etc.
7- In cases where the treatment has been going on for too long without significant relief to the patient, seeking a second opinion to confirm the line of treatment or opt for another line of treatment is recommended.
Seeking a second medical opinion is not a crime and should be taken by patients to satisfy all their doubts and queries. An honest and diligent doctor will always encourage it to alleviate patients' anxiety.
Contributed by Dr. Rachita Narsaria, MD
Reference
1-Wasington University physicians.
http://wuphysicians.wustl.edu/page.aspx?pageID=137
2-Mordechai O, Tamir S, weyl-Ben-Arush M.
Seeking a second opinion in Pediatric Oncology.Pediatr Hematol Oncol.2014 Dec31(epub ahead of print)