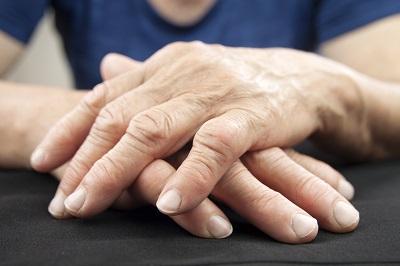 Rheumatoid arthritis (RA) is an autoimmune, inflammatory disease which affects the small joints that permit the finer movements of the body. It is estimated that 1.3 million people suffer from RA in the world. Autoimmune diseases occur when a body's immune system misidentifies healthy tissue as foreign body and starts attacking them. In RA, the autoimmune reaction causes inflammation which can further lead to loss of bone and cartilage. RA is a progressive disease and if not properly treated chronic RA can cause significant destruction of joints and functional disability. Fortunately, a new study revealed a previously-unknown method for treating RA.
The precise cause for RA is not known, but it is suspected that some microorganisms (like bacteria/viruses) or some drugs might trigger the immune system disorder.
RA is seen usually in patients who have genes (familial history) that make them additionally susceptible to autoimmune diseases. New medications referred to as biologics have been developed for treating RA. Biologics are composed of proteins or antibodies which act on the immune system by reducing autoimmune activity. Two biologics that are commonly prescribed are Enbrel (etanercept) and Humira (adalimumab).
Researchers of Montana State University (MSU) have published their findings about a new chemical compound which showed potential in treatment of RA. These findings have been published in the June issue of the Journal of Pharmacology and Experimental Therapeutics (JPET). Mark Quinn, the senior author of the paper and a faculty member in MSU's Department of Microbiology and Immunology stated that commonly used biological drugs were quite expensive and often patients did not respond to them, while some patients showed a sensible response in the start and later became immune to them. Thus, there was a need to develop new drugs which are different in action and may be combined with other alternatives on the market or can replace medications which don't seem to be acting for patients.
Researchers in Quinn's laboratory had found a new chemical compound called IQ-1S in previous studies. This new study was conducted to grasp how the new molecule compound works against RA and the observations of the study were shared in the JPET paper.
Apparently, the compound IQ-1S markedly reduces the severity of arthritis evoked by collagen and inhibits the autoimmune processes thereby reducing destruction of cartilage and bone tissue. IQ-1S worked effectively because it targets a kinase protein which sends out signals for destructive and inflammatory activities. It also inhibits the kinase activities and suppresses inflammation in joint tissue and lymph node cells.
References:
Schepetkin, L. N. Kirpotina, D. Hammaker, I. Kochetkova, A. I. Khlebnikov, S. A. Lyakhov, G. S. Firestein, M. T. Quinn.Anti-Inflammatory Effects and Joint Protection in Collagen-Induced Arthritis after Treatment with IQ-1S, a Selective c-Jun N-Terminal Kinase Inhibitor. Journal of Pharmacology and Experimental Therapeutics, 2015; 353 (3): 505
The above story is based on materials provided by Montana State University (MSU) and Wikipedia