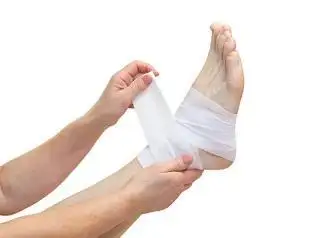 EXOGEN is a new portable medical device that uses low intensity, pulsed ultrasound (LIPUS) waves to stimulate the bone's natural healing process after a fracture. It is a non invasive therapy for faster healing of non-union fractures. This device is also used to accelerate the healing process.
Uses:
EXOGEN can be used at any stage of the fracture healing process. If used early, the ultrasound waves encourage cells to remove bacteria and debris. When used in the middle stages of the union process, the pulses stimulate the immature bone marrow to produce bone cells and cartilage cells as well as other factors required for bone healing. And if used in the late stages, it encourages bone cells to mature more rapidly and to stimulate the process of remodeling.
The system is often recommended in the case of established non-union fractures excluding vertebrae and the skull. It accelerates the time taken for healing of fractures. EXOGEN can be used in bone repairs following osteotomy, repairs of bone transport procedures and repair in distraction osteogenesis procedures. Finally, it helps prevent the need for further surgery.
The Device:
The device is designed in such a fashion that it is easy to use at home. EXOGEN is light weight and portable with a large visual display and audible tones to give information during treatment. It is comprised of a main operating unit with a permanently connected transducer, a strap and a coupling gel. The unit has a small transducer which is placed on the skin above the broken bone and LIPUS waves penetrate through the skin and soft tissue till they reach the bone. The intensity of the ultrasound signal is low (similar to that used in sonography for fetal monitoring).
The main operating device keeps a complete record of patient's daily use of the device, which is later available for review by the physician. Furthermore, it should be used by the patient only for 20 minutes or as prescribed by the physician, to help hasten the healing processes of the bones. Finally, EXOGEN should be used until your physician determines that your fracture is sufficiently healed. The new EXOGEN device has a matching iOS/Android app that can issue reminders to the patient and includes a video on how to use the system. It is now splash proof and has a color LCD screen.
The safety and effectiveness have not yet been established for individuals lacking skeletal maturity, pregnant or nursing women, patients with cardiac pacemakers, on fractures due to bone cancer, or on patients with poor blood circulation or clotting problems. Thus, it shouldn't be used by these patients unless confirmed by the orthopedic physician. Some patients may be sensitive to the ultrasound gel.
References:
Schofer MD, Block JE, Aigner J, Schmelz A. Improved healing response in delayed unions of the tibia with low-intensity pulsed ultrasound: results of a randomized sham-controlled trial. BMC Musculoskelet Disord. 2010;11(1):229.
Heckman JD, Ryaby JP, McCabe J, Frey JJ, Kilcoyne RF. Acceleration of tibial fracture-healing by non-invasive, low-intensity pulsed ultrasound. J Bone Joint Surg. 1994;76-A(1):26−34.
Kristiansen TK, Ryaby JP, McCabe J, Frey JJ, Roe LR. Accelerated healing of distal radial fractures with the use of specific, low-intensity ultrasound. A multicenter, prospective, randomized, double-blind, placebo-controlled study. J Bone Joint Surg. 1997;79-A(7):961−973.