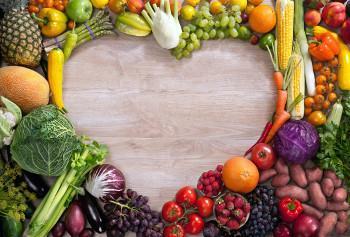 We are well aware that obesity is on a rise in children due to the unhealthy lifestyles we are following: lack of exercise, sedentary day and the fat rich diets we are consuming. It is essential to design a diet plan for obese kids, which reduces their cholesterol and the chance of developing cardiac ailments.
A breakthrough study was published this month in the Journal of Pediatrics. Researchers found that obese children who begin a low-fat, plant-based vegan diet may lower their risk of heart disease. This primarily occurs through improvements in weight, blood pressure, body mass index, cholesterol levels, insulin sensitivity, and high-sensitivity C-reactive protein.
According to the Cleveland Clinic, where the study was conducted, lead author Michael Macknin, M.D. prescribed a four week plant-based vegan diet to 28 obese children with high cholesterol between the ages of 9 and 18 years. One parent of each child also followed the assigned diet plan.
Children on plant-based diets ate whole grains, with limited avocadoes and nuts, no added fat and no animal products. These children experienced drastic improvements in the following 9 measures:
1) BMI (body mass index)
2) Systolic blood pressure
3) Weight
4) Mid-arm circumference
5) Total cholesterol
6) Low-density lipoprotein (LDL) cholesterol
7) Insulin
8) Myeloperoxidase
9) High-sensitivity C-reactive protein.
A control group of children was given the American Heart Association diet that comprised of fruits, vegetables, whole grains and non-whole grains, limited sodium, low-fat dairy, selected plant oils, and lean meat and fish in moderation. These children experienced significant improvements in four measures:
1) Weight
2) Waist circumference
3) Mid-arm circumference and
4) Myeloperoxidase.
Children on the plant-based diet reduced their consumption of animal protein from 42 grams daily to 2.24 grams daily, while also reducing their percentage of calories from fat and saturated fat to 18 percent and 3.6 percent, respectively. Children on the AHA diet were to consume less than 30 percent of their total calories from fat, less than 7 percent of calories from saturated fat, less than 1500 mg of sodium and less than 300 mg cholesterol.
It is often assumed that plant-based diets improve cholesterol levels. Now, the study shows that such dietary plans can also be given to children at high risk of heart conditions and diabetes.
As parents, one must understand that the diet and the 4 week study (which showed significant improvement) can be applied to all the kids. Please speak with your doctor before beginning any diet though. Cardiovascular problems begin early in childhood, so if we inculcate this dietary plan in our lifestyle, the future cardiac health of our children and an entire generation may significantly improve; ensuring better community health too.
One of hurdles that parents faced was purchasing the food needed for a balanced plant based diet. So this diet can be widely used only when availability is easily and affordable. One thing is clear though; the vegan diet may offer yet another way for those experiencing obesity to improve their health.
Contributed by Dr. Rachita Narsaria, MD
Reference:
1)MichaelMacknin, Tammie Kong, Adam Weier, et al. Plant-Based, No-Added-Fat or American Heart Association Diets: Impact on Cardiovascular Risk in Obese Children with Hypercholesterolemia and Their Parents. The Journal of Pediatrics, 2015; DOI: 10.1016/j.jpeds.2014.12.058
2) Bonaccio M, Iacoviello L, de Gaetano G, Moli-Sani Investigators. The Mediterranean diet: the reasons for a success. Thromb Res. 2012 Mar; 129(3):401-4. Epub 2011 Nov 17.