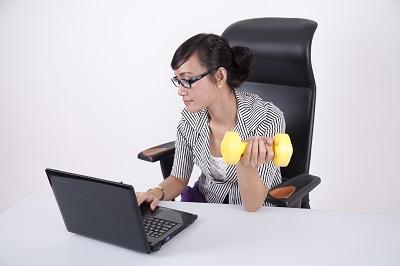 Battle the Sedentary Office Lifestyle!
Do you find the pounds adding up? Are you looking for a way to burn some additional calories and tone up your body? While it is hard to beat the workout you will get at a gym or while exercising outside, there are many ways to boost your fitness level at your office desk. Here are some ideas to help supercharge your day at the office.
Take some breaks from work at your desk and use them to walk around or stretch. Consider walking down hallways to get your blood pumping a bit.
Do you often stand by the copier or printer for minutes at a time? While waiting, try stretching or balance on either foot for 30 seconds a piece.
If you are stuck at your chair for long periods, think about performing dips from the edge of your seat. Find a stationary chair and brace yourself on the arm rests or from the edge of the cushion. Take caution that you do not fall!
Are you waiting for a meeting in a hallway? Try performing some wall sits! Lean with your back against the wall and dip so that your thighs are perpendicular with the wall. Hold yourself in this position for 30 to 60 seconds. Try repeating for 3 reps.
Looking for a less noticeable exercise? Try performing some leg raises. Lift your legs up (doable under your desk) and hold them several inches off the floor for 15-30 seconds. Repeat several times for increased effect.
These exercises are just a few that can seriously boost your fitness level. While exercise at your office is unlikely to replace a gym or outdoor workout, it should supplement your workout schedule. Consider complimenting your exercise with healthy foods (including proteins) and vegetable smoothies for even more effect. To read about more exercises, visit websites such as this:
http://greatist.com/fitness/deskercise-33-ways-exercise-work